Services
In my practice, I treat a wide range of conditions, chronic and acute, through integrating a number of healing modalities to form your unique treatment plan. Some of the tools include:
Acupuncture, Constitutional Cosmetic Acupuncture, Tuina massage, Fire Cupping, Moxibustion, Nutrition, Classical internal martial arts (Taiji, Qigong), Meditation, Life-style & Spiritual counselling, Health coaching.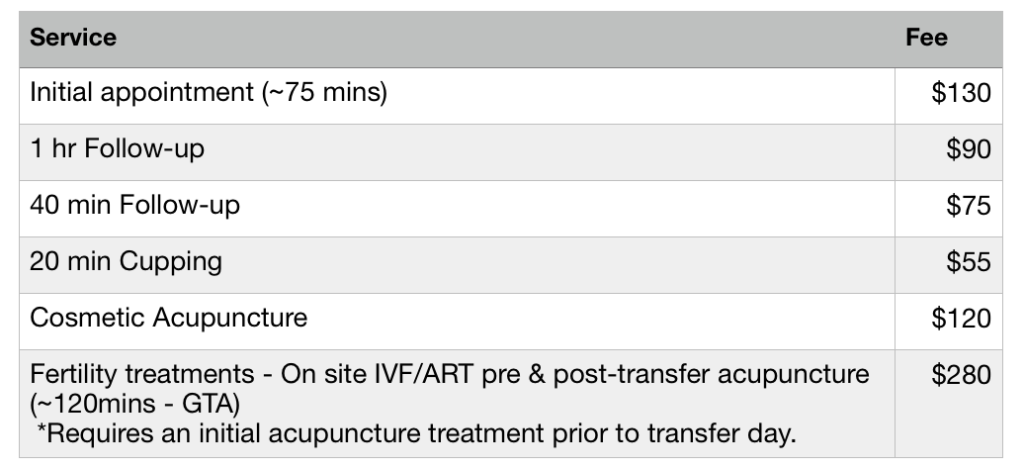 Acupuncture services are covered by most insurance plans (please inquire with your insurance company) and are Tax Deductable. Fees are payable by e-transfer, cheque or cash at end of each session, unless other arrangements have been made. There is a $25 charge for NSF cheques. If finances are a barrier to receiving care, special accommodations can be made for individual cases, please contact Nada to discuss your options.
College of Traditional Chinese Medicine Practitioners and Acupuncturists of Ontario (CTCMPAO) membership #3417.
Clinic Hours
Tuesdays:         3-7pm
Wednesdays:   1-7pm
Fridays:            10am-5pm
Saturdays:       10-2pm